90 Minute Tranquility Float - a 90 minute float in either of our tanks.
Our 90-minute length makes sure you get amazing effects that stick with you. A lot of float benefits don't take hold until 45 minutes in, and they just keep getting better from there.
Buddy Float Special - bring a buddy along, and float at the same time in separate tanks. Two simultaneous 90 minute tranquility floats.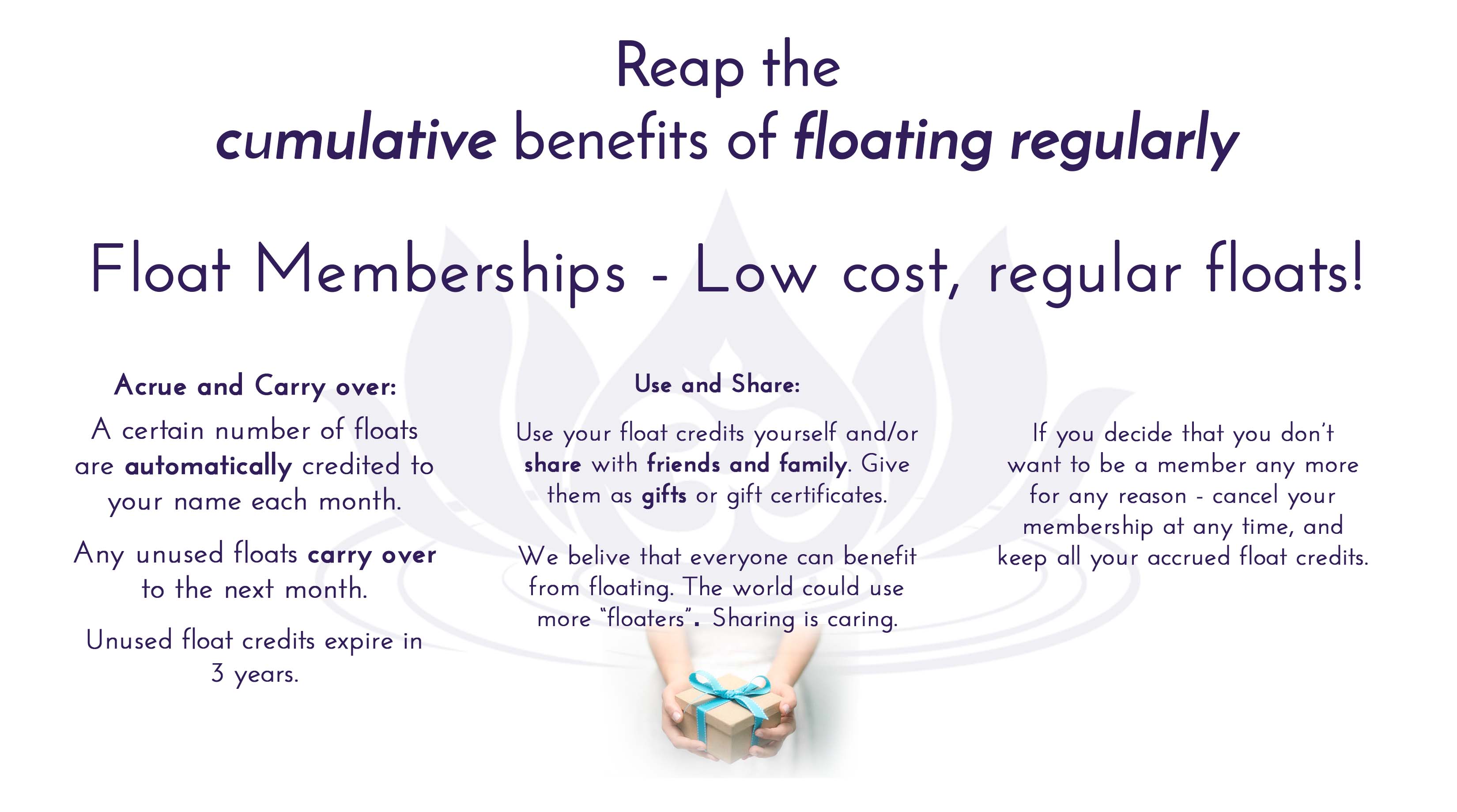 Curiosity - 1 float a month membership
Exploration - 2 floats a month membership
Diving Deep - 3 floats a month membership
Getting Real - 4 floats a month membership
Float Away - 8 floats a month membership

"I just had my first floating session at Float Om and there are no words for how much I recommend this experience to anybody! After a few minutes I entered a deep state of neither awake nor asleep. My body automatically adjusted itself a few times with some twitches, a few pops, and micro-movements. I've been holding a lot of tension in my body and been dealing with lower back/sciatic pain for a while now. After the session I stepped out of the tank with almost zero pain left. My partner and I signed up for a membership right away and I can't wait to float again!
Also, the owner is super nice, makes his own therapeutic grade essential oils and does great photography, all for sale at Float Om at very reasonable prices!"
-Jennifer D. | Facebook
We have two different style of tanks. They basically provide the same experience. Once the door is shut and it is dark inside, it is hard to tell how big the box is. The Cabin is often more inviting to people that might have a tendency to feel claustrophobia, the pod is often is favored by people that prefer a more enclosed, cocoon type experience. Many describe it as going "back to the womb".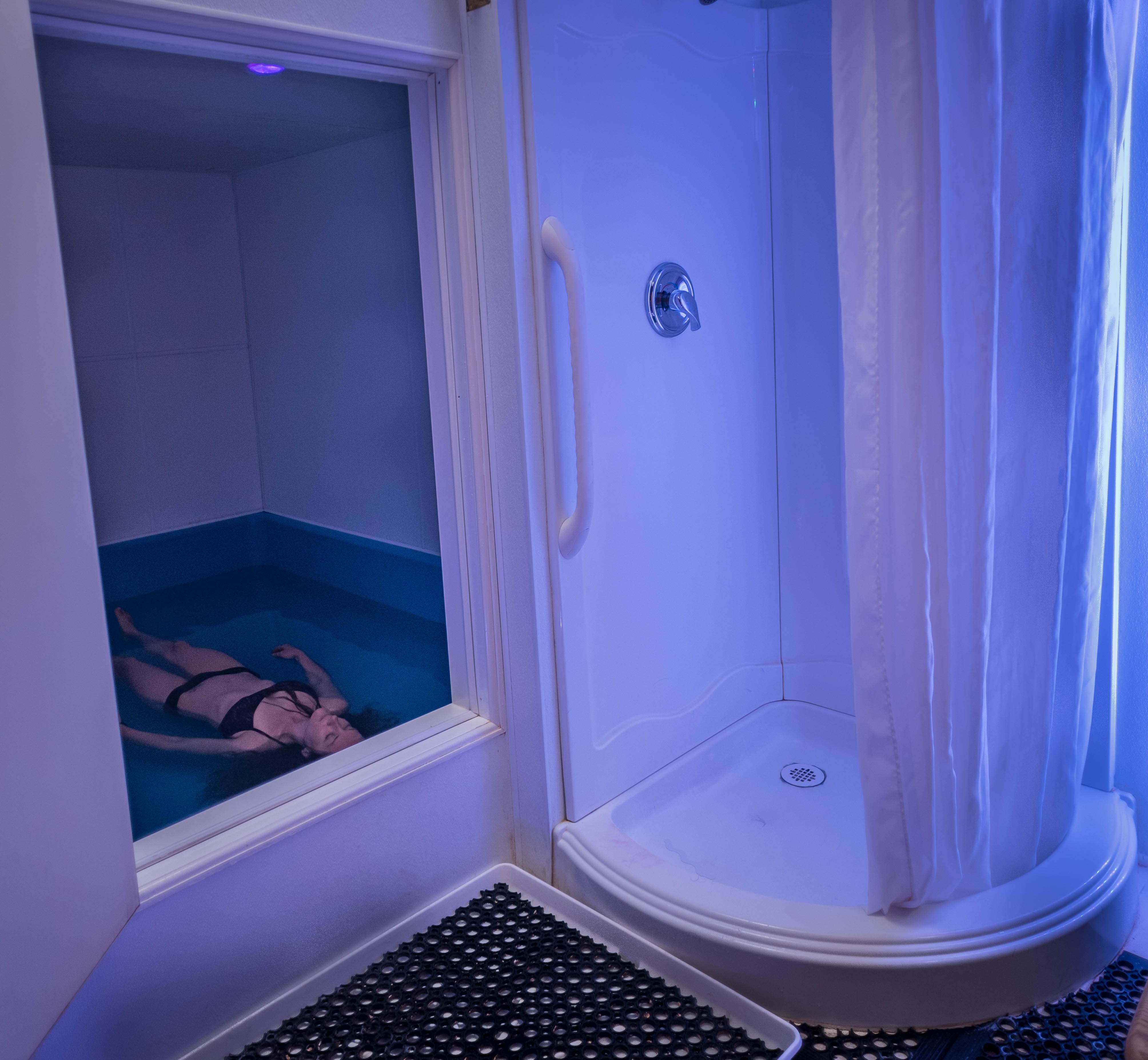 Our custom-built cabin offers plenty of room to stand up or to stretch out. The more inviting option if there is any tendency of claustrophobia. This tank is also easier to get in and out of.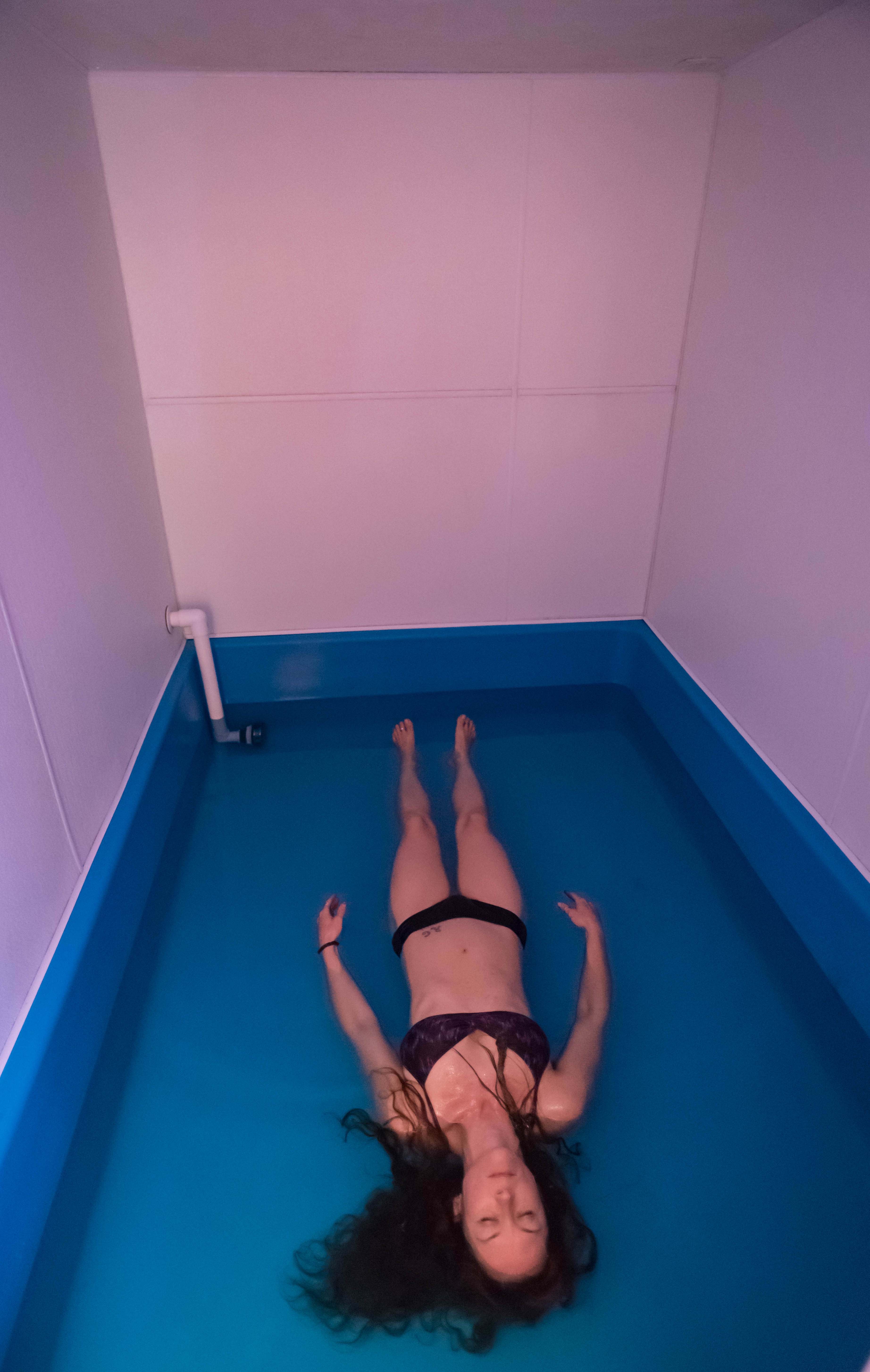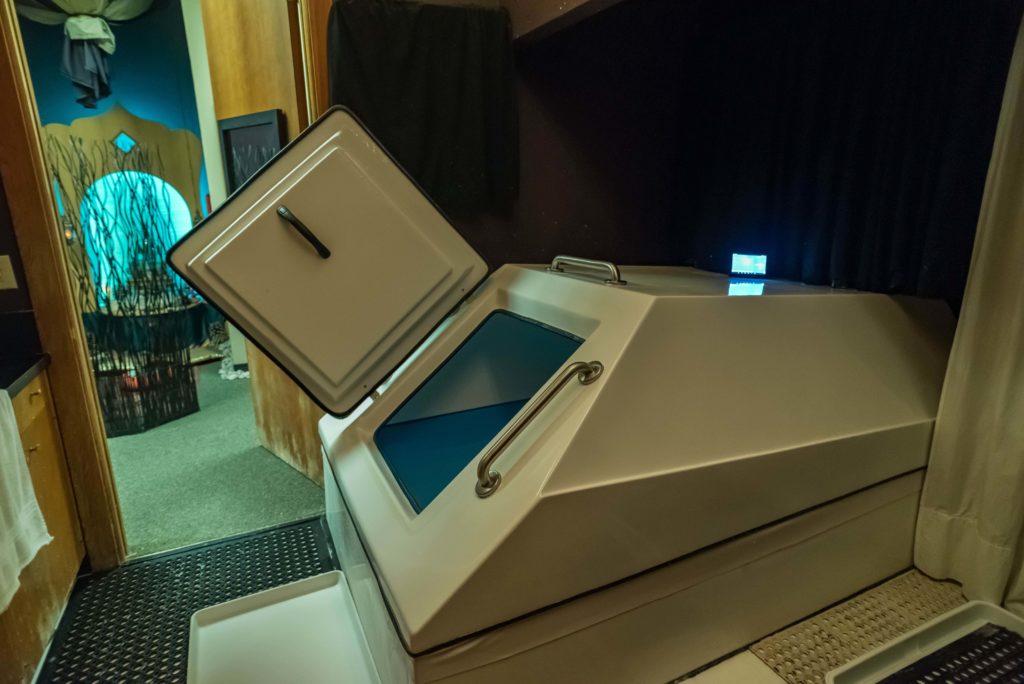 Our Oasis brand float pod, offers a more enclosed and cocooned experience. Many describe the experience as going back to womb.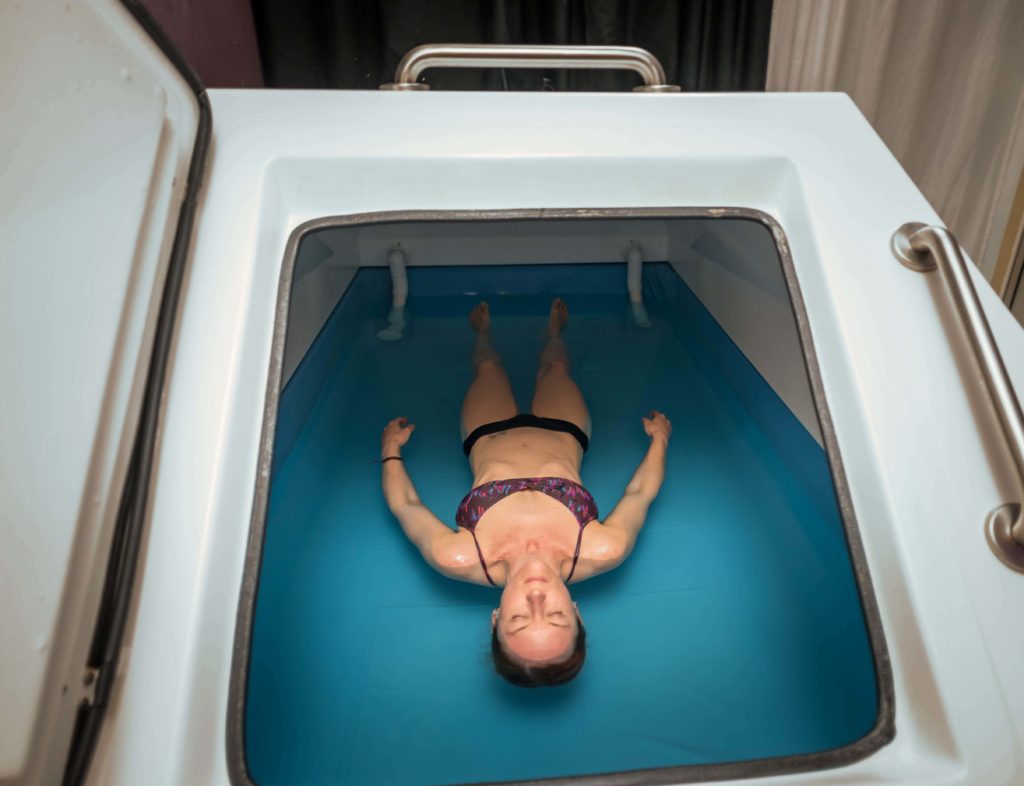 Meditation Altar and More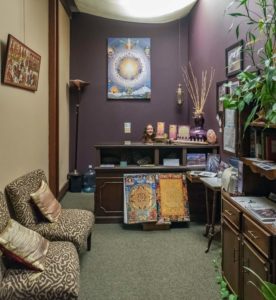 Front desk and waiting area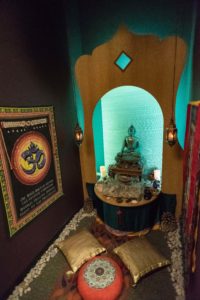 Meditation altar - for use before or after your float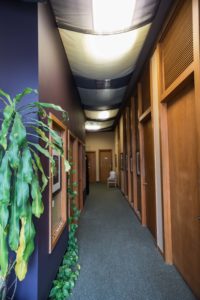 Hallway leading to float rooms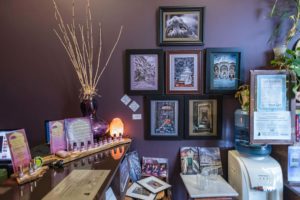 Photography by owner, and our own home brand of essential oils - Mystic Scents, for sale.
Some simple tips to help you prepare for your float
Shaving
For men, avoid shaving your face at least 6 hours before you float. For women, avoid shaving your body at least 12 hours before your float. Any lesions will be distracting due to the Epsom salt sting.

Eating
A super full stomach is not great for floating, nor is the emptiest of stomachs. Having a light, easily digestible meal 1.5 to 2 hours pre-float is probably ideal.

Hydration
Being dehydrated before the float may not be the best state, particularly for your brain. A healthy daily hydration practice is just good for optimal biology!
Restroom
Be sure to use the restroom prior to showering before you float, to minimize distractions while in the tank.
Smoking
Smoking just prior to the tank may be too stimulating. Even if you are craving a cigarette the tank may very well suppress your craving. However, you'll need to figure out what the best formula is for you and your biochemistry.
Caffeine
Definitely avoid having caffeine before you float. The stimulation you experience from caffeine is the exact opposite way you'll want to go when you are in the tank. By the end of your float you most likely will not feel like you need your fix.
Activities
Physical activity (yoga, cardio, or resistance training) before the float seems to greatly enhance the floating experience. Your body has expended pent-up energy, muscles and tissues are loose and flowing with blood, your mind is clear and calm. Combining floating to this state can potentially assist in going deeper.  A little snack (not junk food) post-activity and pre-float could be helpful. Nuts, fruit, juice, or smoothies are good options - just not too much.
Hair Dyes
For guests with recently colored hair or highlights, we recommend not floating until roughly one week or more after treatment. Some dyes can bleed out or be affected by the heavy concentration of epsom salt. Please consult your hair stylist before floating.
Beginner's Guide To Floating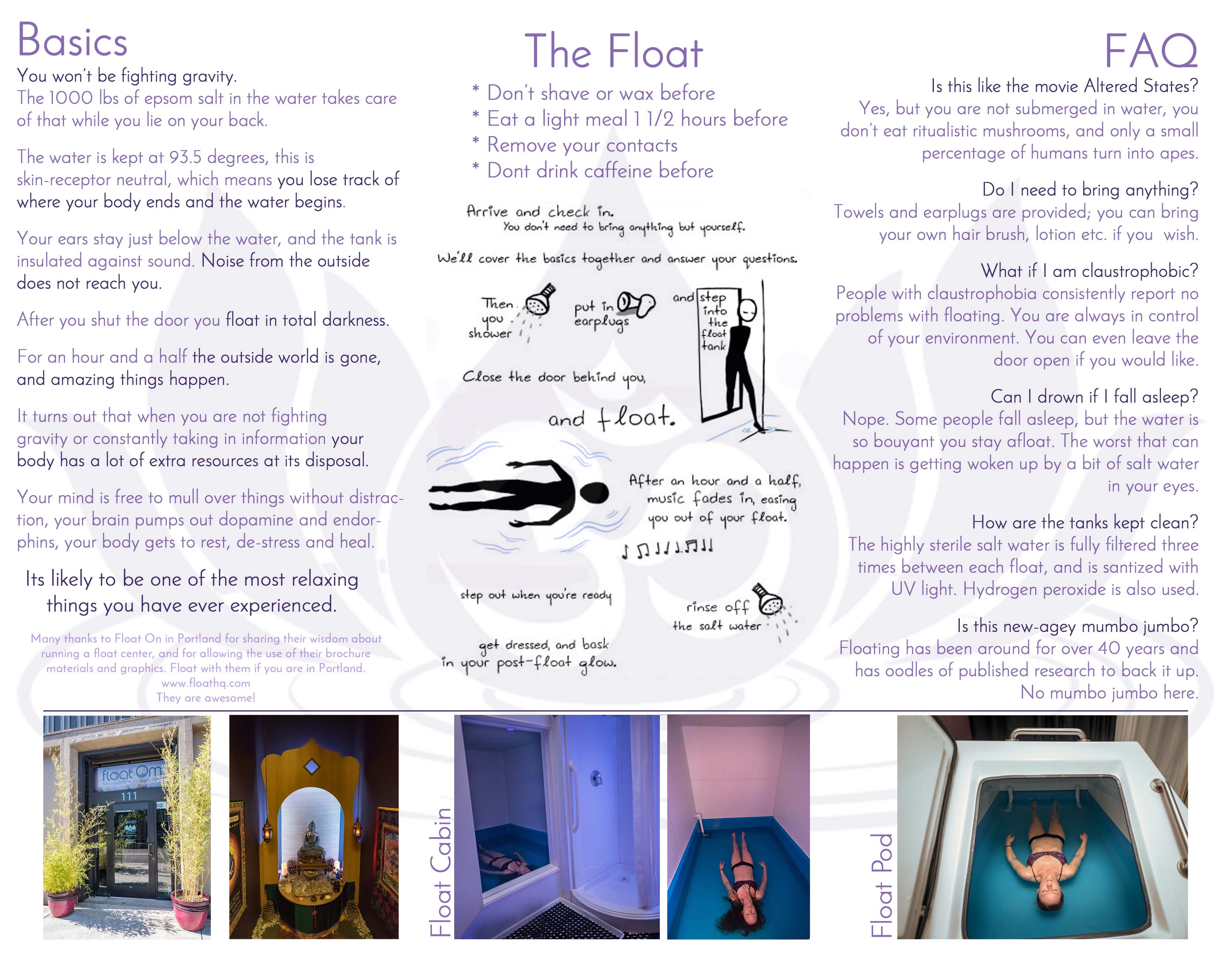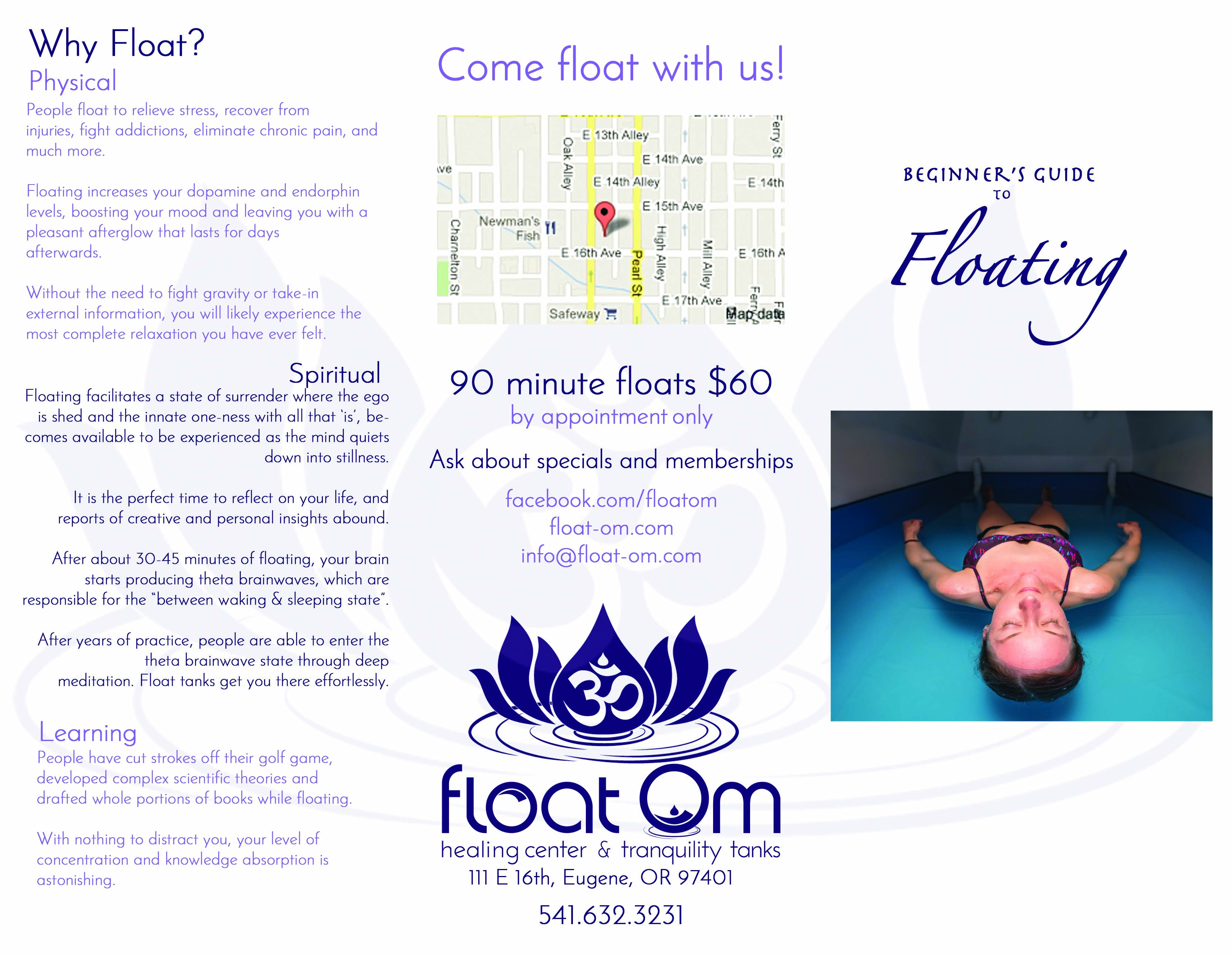 "Just go. It's a far more profound experience than you can imagine."
-Mary R. | Facebook

Give the gift of healing!
We have individual and buddy float gift certificates available. Since we are open only by appointment, make sure you contact us first. You can obtain a gift certificate in the any of the following ways:
Setup a time to come by in person.
Pay over the phone and have a certificate emailed to you, which you or your friend can print.
Pay over the phone and have us mail a certificate by postal mail.
We can also do a payment over the phone and put a credit in your friend's name - a virtual gift certificate
If you prefer not to use the phone at all, we can also do an online payment via email.
So contact us and let us know - how many certificates you would like, what type - buddy or individual, and how you would like them from the options listed above. Thanks for giving the gift of tranquility!
Ready for a float? BOOK NOW